Integrating Spheres ITS
Luminous flux measurement of light sources for automotive exterior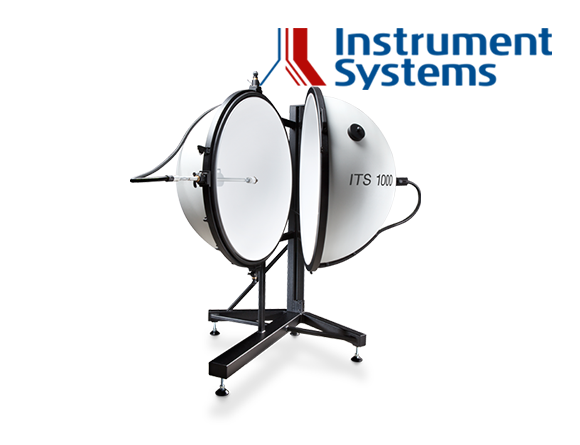 Integrating sphere for the Optronik line of measurements systems
ITS integrating spheres belong to the portfolio of the Optronik product line from Instrument Systems. Their 80% reflective barium sulfate coating and measurement geometry were specially developed for the characterization of lamps and modules in the automotive, traffic lighting and aerospace industries. They are available in the sizes (diameter) 500 mm and 1000 mm.
A lamp adjustment rod permits the setting of three different burning positions (hanging, standing, horizontal), in order to operate the test sample in the respective burning position as prescribed by standard..
One solution for multiple measurement tasks
Determination of luminous flux and color coordinates of lamps in combination with photometer, tristimulus colorimeter and spectroradiometer.

Determination of material properties (reflection and transmission) of a wide range of materials

Luminance standard, i.e. light source with homogeneous radiation surface for the calibration of photometers, CCD cameras, etc.
With the right accessories, ITS spheres are also ideally suited to the measurement of reflection and transmission.
Key Features

- Measurement geometry in accordance with CIE 84
- Barium sulfate coating with 80% reflectance value
- Lamp holder can be suspended, standing or horizontally mounted
- Integral auxiliary light source for determining self-absorption of the sample
Technical data and specifications

| Model | Inside diameter | Application |
| --- | --- | --- |
| ITS 500 | 500 mm | Measurement of the luminous flux and color coordinates of lamps in accordance with CIE Publication No. 84 and ECE R37 (automotive lamps ) |
| ITS 1000 | 1000 mm | Measurement of the luminous flux and color coordinates of lamps in accordance with CIE Publication No. 84 and ECE R37, ECE R99 (automotive lamps incl. discharge lamps) |
[이 게시물은 최고관리자님에 의해 2020-07-21 18:27:12 Products에서 복사 됨]
Sample system