LumiTop 4000 / 2700
Imaging photometer and colorimeter for display production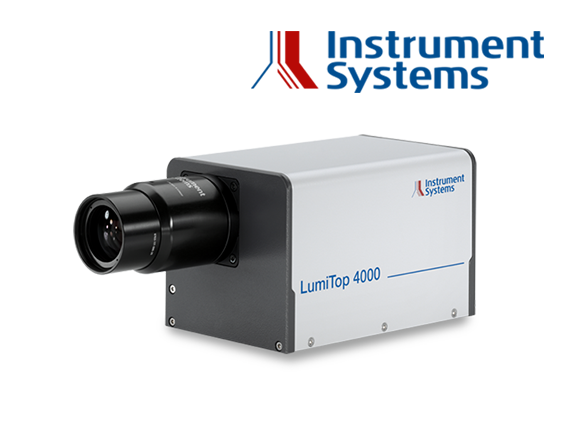 LumiTop 4000 / 2700 – Innovative design combines imaging and spectral measurement technology
The LumiTop 4000 and LumiTop 2700 imaging colorimeters from Instrument Systems are used together with a CAS spectroradiometer for measuring the luminance and color uniformity of displays in the production line. They also include a photodiode, thus combining the advantages of three different types of measuring instrument:
Unrivalled accuracy in spectral spot measurement

Analysis options of imaging colorimetry

Temporal resolution of a photodiode.
The patented optical design permits simultaneous measurement of all three sensors in one shot. The accurate spectral measurement is used as a live reference and transferred to the complete display area of the camera. This makes for extremely short measurement times and all relevant optical tests are conducted in a single test station.
The LumiTop is available in two basic versions:
LumiTop 4000 with 12 MP RGB sensor (CMOS)

LumiTop 2700 with 6 MP RGB sensor (CCD)
The LumiTop 4000 as an advancement of the LumiTop 2700 can detect and analyze even smaller defects and inhomogeneities, and in combination with the 100 mm lens it permits single pixel analyses (limited field of view). Thanks to a HW trigger it is also suitable for applications with timed measurement processes (e.g. optical tests of µLED wafers). The high-luminance mode extends the dynamic range, particularly with modulated displays and light sources (such as OLED displays).
Key Faetures
- Worldwide established measuring instrument for display quality control in production facilities (in combination with the CAS series of spectrometers)
- Model variants with 6 or 12 megapixels
- High measurement speed with high measurement accuracy
- Extensive LumiSuite software (GUI and SDK)
- Complete evaluation of luminance and color uniformity, Mura, pixel defects, contrast, gamma curves, white point, flicker and luminance modulations and spectral analysis in the center spot
Technical data and specifications
| Model variants | LumiTop 2700 | LumiTop 4000 |
| --- | --- | --- |
| Resolution (RGB) | 6 MP | 12 MP |
| Choice of lens | 29 mm standard / 11 mm wide-angle | 29 mm standard / 100 mm (macro) |
| Trigger | no | yes |
| High luminance mode (for modulated light sources) | no | yes |
[이 게시물은 최고관리자님에 의해 2020-07-21 18:19:28 Products에서 복사 됨]
Sample system