LumiCam 2400B Series
New lenses with motorized focus and aperture setting, faster filter wheel, compact design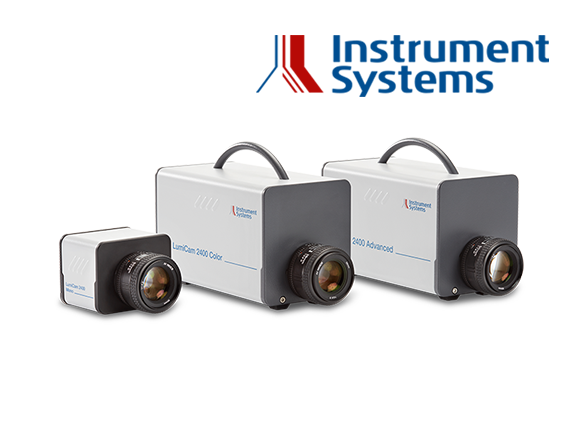 The new generation of filter-based luminance and color measurement systems with maximum user-friendliness
New vis-à-vis the proven LumiCam 2400/1300 series:
Range of lenses with motorized focus and apertures

Up to 30% shorter measuring times

Improved reproducibility of measurement results

More compact design
The latest LumiCam generation is thus the ideal instrument for easy and reliable measurement of displays and control elements, e.g. in the automotive interior or aviation sector. It is equally suitable for tests in the laboratory and in quality assurance for small batch production.
The new LumiCam 2400B is available in the same three models as the LumiCam 2400/1300 series:
LumiCam 2400B Mono

 

– for luminance measurements

LumiCam 2400B Color

 

– for luminance measurements and 4-filter-based chromaticity analysis

LumiCam 2400B Advanced 

–

for luminance measurements and 6-filter-supported chromaticity analysis
The 5 MP resolution of the LumiCam 2400B camera sensor permits spatially resolved 2D acquisition of all colorimetric and photometric data. The new lenses with motorized apertures and focus make for simple operation and are available in various different focal lengths.
Extended features for the proven LumiCam software
New features include polyline analysis and live reticle, enabling exact measurement of even complex display elements.
LumiCam 2400B – high-precision 2D light measurement technology for cross-industry use
The new LumiCam 2400B is an imaging colorimeter for the precise determination of luminance and color distribution in a matter of seconds. With its different models it fulfils complex measuring requirements in the automotive industry, aviation, general lighting or display industry, where it is used for quality assurance, e.g. dashboards, display panels and cockpits.
Technical data and specifications
 

Mono

Color

Advanced

Effective No. of pixels

2428 x 2028 (5 MP)

2428 x 2028 (5 MP)

2428 x 2028 (5 MP)

Pixel size

3.45 µm x 3.45 µm

3.45 µm x 3.45 µm

3.45 µm x 3.45 µm

Measuring range
0.3 mcd/m

2

 - 2.5 Mcd/m

2

0.3 mcd/m

2

 - 2.5 Mcd/m

2

0.3 mcd/m

2

 - 2.5 Mcd/m

2

Luminance accuracy for standard illuminant A

± 3 %

± 3 %

± 3 %

Luminance accuracy for single color LEDs

-

-

± 2 %

Accuracy (x, y) for standard illuminant A

-

± 0.003

± 0.003

Accuracy (x, y) for color light

-

± 0.010

± 0.010

Accuracy (x, y) for single color LEDs

-

-

± 0.005
[이 게시물은 최고관리자님에 의해 2020-07-21 18:18:24 Products에서 복사 됨]
Sample system