CAS 120
Array spectroradiometer for a wide range of applications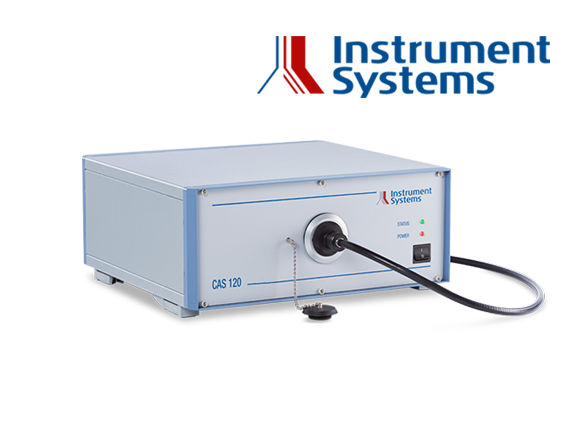 CAS 120 – Powerful spectroradiometer for lab and production applications
As a technological leader in spectroradiometers, with the CAS 120 Instrument Systems offers a particularly robust and fast measuring instrument without active cooling for laboratory and production lines in the UV/VIS and VIS range.
It delivers precise and stable readings and is suitable both for diverse uses in the lab and production control / quality assurance. It is quickly and easily integrated into existing production facilities using a DLL and LabVIEW® driver.
Like all models in the CAS series, the CAS 120 is based on a crossed Czerny-Turner spectrograph with a CCD detector. Its excellent optical properties, e.g. low stray light and high spectral resolution, provide for an extremely wide range of applications in the spectral range from 200 to 830 nm.
Extensive accessories and our proven SpecWin Pro spectral software with a groundbreaking GUI will upgrade the CAS 120 to an individual measurement system for a wide range of measurement tasks – to the level of a complete lab measuring station.
Production control and quality assurance of LEDs, luminaires and displays
The CAS 120 is used as a fast and robust spectral measurement device where cooling can be dispensed with and an emphasis is placed on an attractive price. Due to its versatility, it is equally suited to lab use, production control or quality assurance.
With the appropriate accessories, the efficient instrument is ideal for reliable testing of individual LEDs, UV-LEDs, VCSELs, SSL products and displays on the basis of LEDs, OLEDs or µLEDs – both in the lightlab and in the production line.
Key Features
•
"Back-thinned" CCD detector for high spectral sensitivity
•
Model variants for VIS (360-830 nm) and UV/VIS (200-800 nm)
•
Broad dynamic range thanks to four integrated density filters
•
Good stray light suppression
•
Comprehensive spectral software
SpecWin
Pro
•
DLL and LabVIEW
®
divers available
Technical data and specifications
| Model variants | UV/VIS | VIS |
| --- | --- | --- |
| Spectral range | 200-800 nm | 360-830 nm |
| Spectral resolution (100 µm slit) | 2.7 nm | 2.2 nm |
| Data point interval | 0.35 nm | 0.3 nm |
| Straylight for LED | 5·10-4 | 5·10-4 |
| Wavelength measurement accuracy | ±0.3 nm | ±0.3 nm |
[이 게시물은 최고관리자님에 의해 2020-07-21 18:08:46 Products에서 복사 됨]
Sample system