CAS 140CT
Highly successful array spectroradiometer in production and lab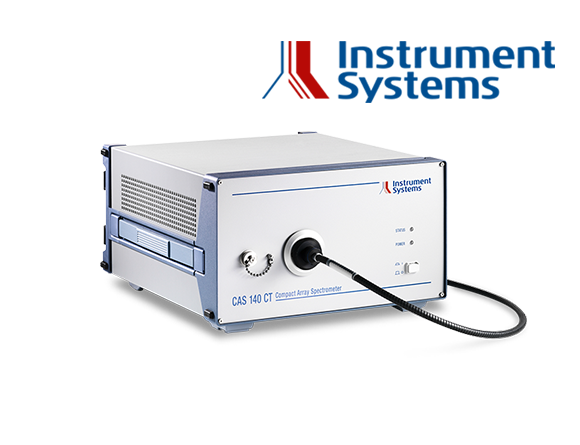 CAS 140CT – For many years a benchmark for precise light measurement
Manufacturers of high-quality LEDs, luminaires and displays all over the world place their trust in the accurate and reliable measurement results yielded by CAS array spectroradiometers from Instrument Systems.
The CAS 140CT is, like all CAS models, equipped with calibration traceable to PTB or NIST– large numbers are in use in many markets all over the world.
As a special feature, the CAS 140CT offers two infrared models for special spectral measurement tasks up to 2150 nm.
The CAS 140CT is one of the key measuring instruments in the complex system solutions from Instrument Systems. Due to its long life and dependability, it has become widely established in development, quality control and production lines for LEDs, OLEDs, SSL products and displays worldwide.
Due to its measuring scope to the IR range, particularly in combination with other CAS models, the CAS 140CT covers a particularly broad range of applications. It is thus the ideal solution in established and new markets for challenging measurement tasks, e.g. in transmission, reflection, photovoltaics.
Key Features
• 
Model variants up to 2150 nm
• 
Cooled detector up to -20° C
• 
Spectrograph with excellent stray light suppression
• 
Integral density filter wheel
• 
Permits extremely long integration times
• 
Extensive
SpecWin
Pro spectral software
 •
Additional stray light correction (optional)
Technical data and specifications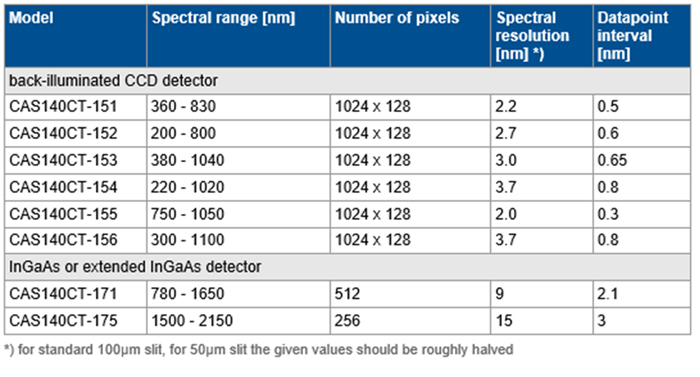 [이 게시물은 최고관리자님에 의해 2020-07-21 18:06:49 Products에서 복사 됨]
Sample system