CAS 140D
High-precision, fast array spectroradiometer – for demanding measurements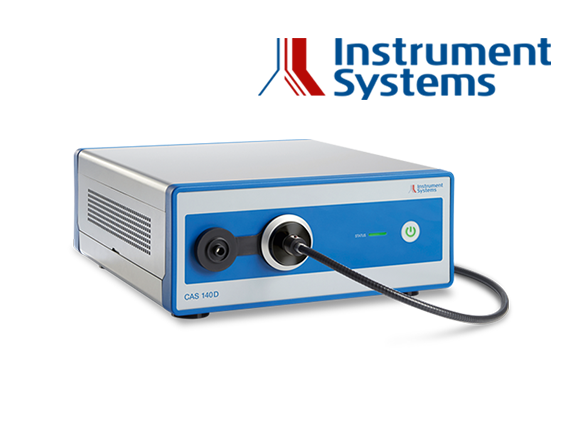 The latest high-end CAS 140D array spectroradiometer from Instrument Systems is seen as a benchmark for high-precision spectral light measurement technology both for weak light sources and high radiation intensity.
Based on the proven Crossed-Czerny-Turner spectrographs with a cooled CCD detector, it combines
- Highest measurement accuracy and stray light suppression
- Repeatability and stability
- Extremely short integration times
All-in-one systems for any (new) measurement scenario for LEDs, luminaires or displays
The CAS 140D is the key measuring instrument in the Instrument Systems system solutions. Supplemented by powerful software packages (SpecWin Pro, LumiSuite), integrating spheres, goniometers, imaging colorimeters and comprehensive accessories, we offer the optimum all-in-one system for any measurement challenge, tailored to the current standards in your industry.
Whether you need to perform radiometric or photometric measurements of individual LEDs, UV-LEDs, VCSELs, SSL products or evaluate displays on the basis of LEDs, OLEDs or µLEDS – the  CAS 140D is suitable for all conceivable photometric applications and the latest challenges in the lab and production.
Key Faetures
- Used worldwide as a reference instrument
- Model variants from 200 – 1100 nm
- Cooled "back-thinned" detector for minimum dark current
- Spectrograph with maximum stray light suppression
- Integration times from 4 ms to 65 s
- Automatic accessory recognition
- Extensive SpecWin Pro spectral software
- High-precision measurement of correlated color temperature (CCT) and color rendering index (CRI)
- Traceable measurement uncertainties of only ±0.0015 on standard chromaticity coordinates
- Additional stray light correction (optional)
Technical data and specifications
Model variants

UV/VIS

UV/VIS/NIR

VIS

VIS/NIR

Spectral range

200-830 nm

220-1020 nm

300-1100 nm

360-830 nm

380-1040 nm

Spectral resolution (100 µm slit)

3.0 nm

3.7 nm

2.2 nm

3.0 nm

Data point interval

0.65 nm

0.8 nm

0.5 nm

0.65 nm

Stray light for LED

1·10-4

1·10-4

1·10-4

1·10-4

Wavelength measurement accuracy

±0.2 nm

±0.2 nm

±0.2 nm

±0.2 nm









[이 게시물은 최고관리자님에 의해 2020-07-21 17:57:01 Products에서 복사 됨]
Sample system