LED433-15
LED 4xx – Luminous intensity measurement adapters for LEDs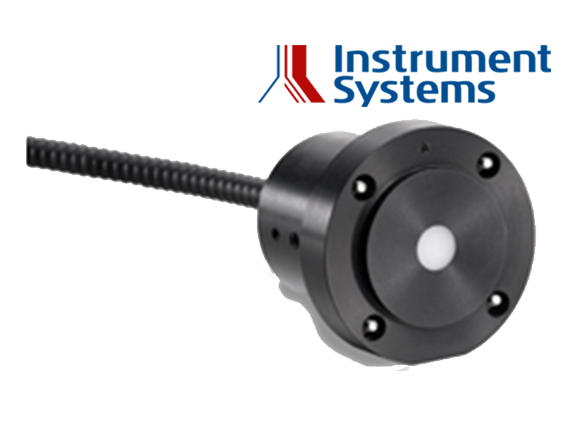 Description 
Instrument Systems has developed various measurement adapters for determining the averaged luminous intensity ILED-B [cd] of LEDs. These differ according to the usable spectral range (only visible or also UV), measurement geometry and planned application (in the lab or production).
Measurement adapters contain a diffusor that forms the sensitive detector surface of precisely 1 cm². Behind the diffusor is an optical fiber bundle, with the aid of which the light beam is coupled into the spectrometer. This design is characterized by high light throughput with sufficient homogeneity of the detector surface. The LED-4xx series of measurement adapters is thus particularly suitable for low-light LEDs and use in fast production tests.
Applications
LED 4xx measurement adapters can accept all test sockets of the LED 5xx, LED 6xx and LED 81x series. A clamping mechanism ensures reproducible and exact alignment of LEDs at all times. Shortened versions of the measurement adapters are available for use in production (e.g. for mounting on an LED handler).
For applications requiring the highest degree of precision, optical probe LED 25 was developed for determining "averaged LED intensity" according to CIE 127. The latter is based on an integrating sphere and thus offers homogeneous light sensitivity over the whole detector surface, albeit with a reduced light throughput.
Technical data and specifications
 Model

 Spectral range

 Measurement geometry

 Type

 Measurement adapters for lab applications (with LED test sockets)

 LED-436

 VIS-IR

 CIE ILED-B

 Diffusor

 LED-437

 UV-VIS-NIR

 LED25-431

 UV-VIS-IR

 CIE ILED-B

 Integrating sphere

 Shortened measurement adapters for production applications

 LED-433

 VIS-IR

 CIE ILED-B

 Diffusor

 LED-434-B

 UV-VIS-NIR

 LED-453

 VIS-IR

 0.01 sr at 50 mm measurement distance

 

 LED-454

 UV-VIS-NIR

 LED-439

 Extension piece for use of the LED-43x and LED-45x adapters

 LED25-235

 

 CIE ILED-B

 Integrating sphere
Sample system