DTS 500
Positioning system for automatic display tests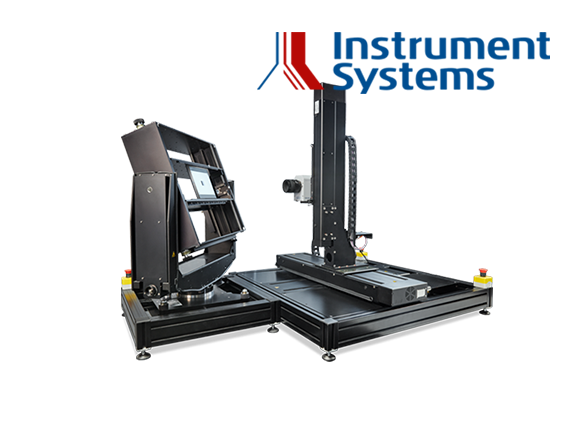 DTS 500 - Goniometer for precise, automatic light measurement of control panels and LC displays
Large numbers of samples must be reliably and reproducibly tested for photometric parameters in the laboratories of display manufacturers and suppliers to the automotive and aviation industries. A vital role is played here by DTS 500 positioning systems that permit precise targeting of measuring points and the examination of luminance and color from different viewing angles. They upgrade Instrument Systems high-end spectrometers and telescopic optical probes to an all-in-one system for automated measurement procedures.
The DTS 500 goniometer from Instrument Systems is available in different configurations:
Standalone XYZ positioner (e.g. for control panels in cars and aircraft)

Standalone 2-axis goniometer

Complete 5-axis goniometer (e.g. for LC displays)
The control of the DTS 500 has been fully integrated into the SpecWin Pro software. Readings can be graphically displayed as luminance and contrast distribution in Cartesian or spherical coordinates with isolines, and exported in many formats.
Key Features
- Precise and robust positioning system for a broad range of applications in display testing
- Model versions for display sizes up to 590 x 490 mm and sample weights up to 25 kg
- Full integration into the SpecWin Pro spectral software
- Programmable, automatic X-Y scans and theta/phi scans in all X-Y positions
- High positioning accuracy
- Optional mountings for the LumiCam imaging measurement system
Technical data and specifications
XYZ-Positionierer

Model

DTS500-103 

DTS500-105

Translation range (X,Y,Z)
350 x 340 x 350 mm 
545 x 540 x 450 mm
Reproducibility
± 0.013 mm 
± 0.013 mm
Absolute accuracy
± 0.025 mm 
± 0.025 mm
Speed
60 mm/sec 
60 mm/sec
Max. mountable weight
6 kg (10 kg optional) 
6 kg (10 kg optional)
Dimensions (LxWxH)
90 x 80 x 90 cm 
100 x 100 x 110 cm
Weight (approx.)
70 kg 
80 kg
2-Axis Goniometer

Model 

DTS500-113 

DTS500-115

Max. Display Size (WxH)
(w. clamping device)
350 x 280 mm 
550 x 440 mm
Max. display size (WxH)
(w/o. clamping device)
395 x 300 mm 
590 x 490 mm
Rotation range
-100° bis +100° 
-100° bis +100°
Reproducibility
± 0.01° 
± 0.1°
Absolute accuracy
± 0.05° 
± 0.05°
Speed
25°/sec 
25°/sec
Max. mountable weight
10 kg 
25 kg
Dimensions (LxWxH)
60 x 55 x 70 cm 
80 x 60 x 90 cm
Weight (approx.)
35 kg 
55 kg
Sample system
DTS Display Measurement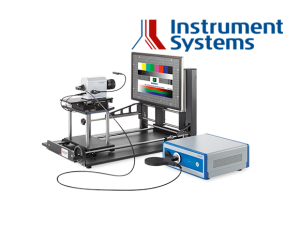 LumiCam Display Measurement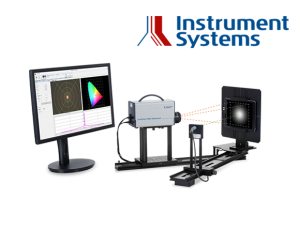 NVIS Display Measurement