LumiTop X150
Ultra-high resolution, all-in-one solution for quality control at pixel level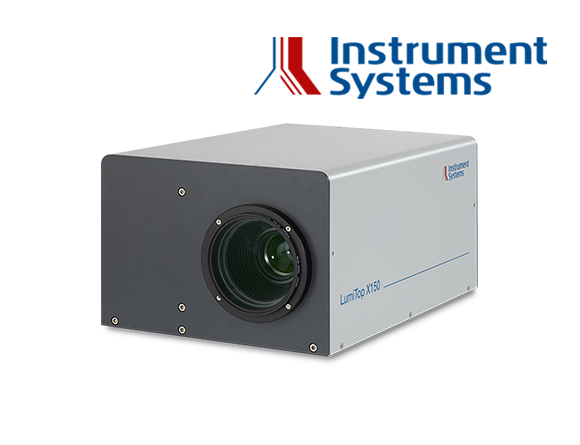 LumiTop X150: highest display quality with subpixel analysis!
The LumiTop X150 is an ultra-high resolution imaging photometer and colorimeter, and complements the innovative 3-in-1 concept of our LumiTop test systems. It was developed in response to the growing challenges in display development and production of OLED or µLED displays in terms of subpixel quality.
Tests for pixel defects
Thanks to the pixel shifter, the LumiTop X150 offers resolutions of up to 600 MP per color channel. With single pixel analyses the display can be examined for various different pixel defects, such as luminance or color deviations, e.g. for pixel-accurate correction of luminance. This new imaging colorimeter is thus perfectly suited to subpixel-accurate quality control of high-resolution displays in production (e.g. Demura), likewise in the research and development of new display technologies.
Suitability for industrial applications
Various industry-suitable lenses are available for testing the smallest micro-displays, smart watches, phones, tablets and 8K monitor displays. The LumiTop X150 can be used regardless of the display technology of the sample.
Thanks to its innovative design, all relevant optical tests can be carried out with the LumiTop X150 in one test station. This guarantees extremely short measurement times and high, absolute accuracy due to the spectral reference measurement.
LumiTop X150 – For optical production tests at pixel level
The LumiTop X150 was developed specifically for pixel-precise analysis and correction of high-resolution displays. Its uses include the testing of micro-displays for AR/VR applications, smart watches and smartphones, TVs, backlit units or µLED wafer. Measurement solutions with our LumiTop X150 camera always deliver fast and accurate results for quality control at pixel level.
Key Features
- Imaging photometer and colorimeter with a resolution of up to 600 MP per color channel
- 3-in-1 measurement system with innovative pixel shifter
- Complete evaluation of luminance and color homogeneity, mura, pixel defects, contrast, gamma curves, white point, flicker and luminance modulations as well as spectral analysis in the center spot
- Very short measuring times with high absolute measurement precision
- Suitable for all display technologies, especially for OLED and µLED displays
Technical data and specifications
| Model versions | LumiTop X150 |
| --- | --- |
| Resolution (RGB) | 150 MP |
| Resolution with pixel shifter | Up to 600 MP per color channel |
| Choice of lenses | Various lenses for display diagonals from 0.25" to ∞ |
| Hardware trigger | yes |
| High dynamic range | >80 dB |
Sample system
LumiTop Display Production Testing