Optical Probes
Optimum accessories for the photometric quantities to be measured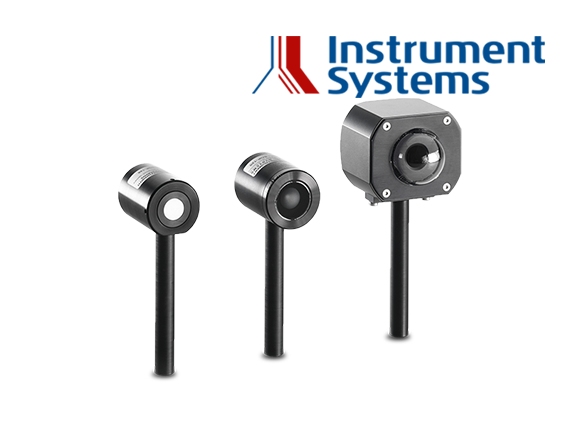 EOP – Optical probes for irradiance measurements
Instrument Systems offers a series of EOPs for measuring irradiance and universal radiation coupling. These differ mainly in terms of light throughput, degree of cosine correction and spectral range. All EOP optical probes contain a diffusor for scattering incident light. Behind the diffusor is the entrance facet of the optical fiber, with which light is coupled into the spectrometer.
Key Features
For general applications we recommend optical probes EOP 120 and EOP 121 (lateral fiber bundle connector), as these offer the best compromise between good cosine correction and good light throughput.
Good to very good cosine correction is needed to measure extended light sources, although this is always at the expense of light throughput. Optical probe EOP-146 is the right choice for this purpose.
Optical probe EOP 140 is only suitable for applications requiring high light throughput. Model EOP 542 is available for measurements with a fixed field-of-view (5.7°) and is primarily used for measuring direct sunlight.
Instrument Systems offers integrating sphere ISP 40 for optimum cosine correction with a wide spectral range. Due to the integrating effect of the sphere, the entire beam is captured regardless of its convergence or divergence and coupled via the fiber bundle with the spectrometer.
Technical data and specifications
Model

Cosine correction

Throughput

Spectral range

Application

With fiber bundle connector

EOP-146

good

medium

190-2500 nm 

Extended light sources

EOP-120

medium

good

190-1700 nm

Universal

EOP-121

medium

good

190-1700 nm 

Universal, flat format housing

EOP-140

low

high

190-2500 nm

Weak light beam

EOP-542

n/a

high

190-2500 nm

5.7° field-of-view

With SMA fiber connector

EOP-350

Very low

high

190-5000 nm

Infrared range

Integrating sphere

ISP40-101

Very good

low

220-2500 nm 

Spectralon coating for UV measurements

ISP40-102

Very good

low

240-2600 nm

BaSO4 coating for a wide spectral range
[이 게시물은 최고관리자님에 의해 2020-07-21 19:44:47 Products에서 복사 됨]
Sample system