LumiCam Software
Specialized analytical software for LumiCam cameras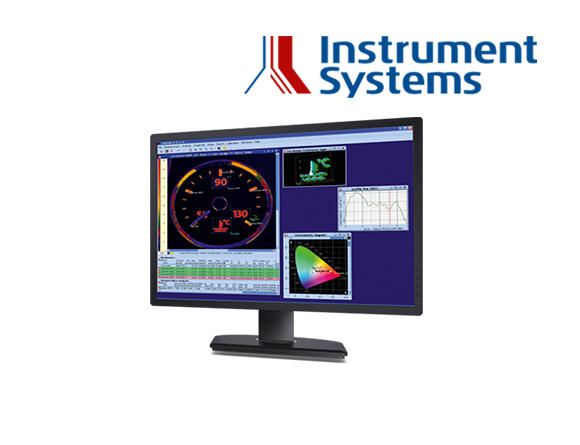 Flexible analyses for versatile customer requirements
A comprehensive software package is available for the imaging measuring systems of the LumiCam series. It is specially configured for the application-related analysis of the two-dimensional, photometric data of the LumiCam cameras. The ever expanding software functions also include graphic analysis tools, e.g.:
Spotmeters in any desired numbers and sizes

Linear profiles along an individually specified route

Polygon analysis for individually specified partial surfaces

3D representation
These functions enable the user to perform a fast and flexible analysis of the measurement data: flexible definition of the desired evaluation range, together with calculation and presentation of the relevant quantities:
Luminance distribution

Color coordinates (x, y and u', v')

Color temperature

Dominant wavelength

Color homogeneity

Contrast
The new generation B of LumiCam models has a motorized lens and aperture setting that can be controlled via the LumiCam software. This results in ease of operation, greater flexibility and precision, accompanied by a high measurement speed.
Instrument Systems is constantly expanding its range of analytical tools in conformance with the latest international standards, giving particular attention to the current OEM specifications of the German Automotive OEM Work Group and the recommendations of the German Flat Display Forum (DFF).
Extended application functions
Black mura audit
The term black mura describes unwanted luminance and color differences for LC displays in black. The quality of in particular of a black display is of particular importance, as the human eye perceives the highest degree of contrast here. The black mura measurement of the LumiCam software serves to characterize small to medium-sized screens and displays with regard to their uniformity in luminance, medium luminance and black mura effects. The uniformity and gradient of luminance are determined from the display with a black-and-white test image. The LumiCam software generates the test images and performs the required calculations. These are based on the "Uniformity Measurement Standard for Displays (UMSfD)" standard of the German Automotive OEM Work Group. The user can also specify PASS/FAIL criteria for his measurements.
Sticking image
Sticking image measurements are used to analyze the burn-in behavior of displays. Here again, the international standards and recommendations serve as a basis for the measuring routine.
Technical data and specifications
The software offers comprehensive support for recurring measuring tasks: opened measuring windows with settings can be individually saved as a personal "desktop" and retrieved at the next start. In this way, measuring procedures can be quickly and easily repeated.
Current data and presentations can be documented and processed in ASCII or PDF format with the aid of the report generator. To ensure uniform reporting, recurring reports can likewise be stored as templates and retrieved at any time.
[이 게시물은 최고관리자님에 의해 2020-07-21 18:56:25 Products에서 복사 됨]
Sample system