Digilux 9500
High-end luxmeter for variable lab tasks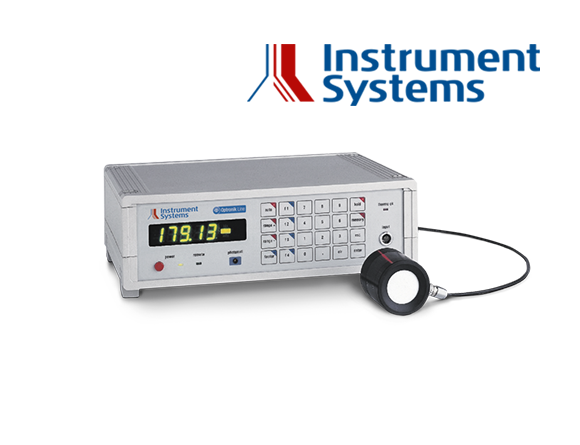 Universal illuminance meter for stationary or mobile use
The Digilux 9500 of the Optronik line is a high caliber luxmeter for the precise measurement of illuminance, luminousintensity in the lab, or determination of luminous flux with an integrating sphere. It is equipped with a state-of-the-art photocurrent amplifier and microprocessor technology, and offers multiple operating and display functions with an excellent price-performance ratio.
The individual models represent precision classes A (high accuracy) and L (ultra-high-accuracy) and the corresponding standards DIN 5032-7, EN-DIN 13032-1 as well as CIE Publication No. 69.
Due to full filtering of the photodiode the influence of non-uniform illumination of the detector, the parameter f9, is limited to the technically possible minimum.
The Digilux 9500 luxmeter is mainly used in the lab for measuring illuminance. Further applications are production control, mobile measurements or automatic lighting control in exterior applications. The Digilumen model was designed for determining the luminous flux of lamps and luminaires with an integrating sphere.
The extensive accessories include measuring range extensions, mains-independent battery operation, measurement data memory, limit switches and stray light tubes. It stands for integration in systems provided by the customer.
Key Features
- Precise measurement von illuminance, luminous intensity and luminous flux (with an integrating sphere)
- Excellent V(λ) correction and extremely high linearity
- 6 (optional 7) decadically stepped measurement ranges with manual or automatic selection of the measuring range
- Wide display range up to 200 klx, optionally 2000 klx
- Display resolution in the most sensitive measuring range 0.1 mlx (optional 0.01 mlx)
- RS 232 interface
Technical data and specifications
| Model | Light entry area | Thermostat control 35°C | Cosine correction | Classification to DIN 5032-7 and CIE No. 69 |
| --- | --- | --- | --- | --- |
| PM-DL-200 | 10 x 10 mm2 | Yes | No | L |
| PM-DL-201 | 10 x 10 mm2 | Yes | No | A |
| PM-DL-202 | Ø 30 mm | Yes | No | A |
| PM-DL-203 | Ø 12 mm | Yes | Yes | L |
| PM-DL-204 | Ø 12 mm | Yes | Yes | A |
Sample system