LED / SSL Measurement
Determination of luminous flux and color with integrating spheres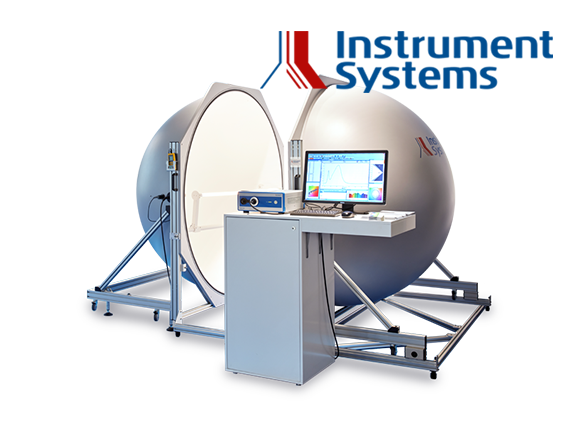 The SSL / LED test systems from Instrument Systems consist of an integrating sphere of the ISP series and a powerful array spectroradiometer of the established CAS series. This combination delivers the most accurate results with reliable reproducibility.
Our high-quality sphere measuring setups are used for the measurement of individual LEDs and LED modules to large and heavy SSL light sources in accordance with the guidelines of the International Commission on Illumination (CIE). They are frequently used by LED and lamp manufacturers in development and in-process quality control.
Key Features:
Measurement solutions for SSL light sources and LEDs of virtually any size
Precise determination of luminous flux and color
Calibration traceable to PTB
Conformity to CIE 127:2007, CIE S 025 and IES LM-79-08 guidelines
Component

Description

Spectroradiometer

Spectroradiometers of the Instrument Systems CAS 140 or CAS 120 series.

Integrating sphere

Integrating spheres of the ISP series with internal diameters from 75 mm to 1900 mm and barium sulfate coating for high optical throughput in a broad wavelength range, for measuring single LEDs to large lighting modules. A large number of variants, options and connection options is available to satisfy varying demands in the lab and production.

Auxiliary light source

 

Halogen lamp for self-absorption correction of the light source to be tested.

Software

The SpecWin Pro spectral software offers modules for a wide range of measurement tasks (e.g. classification of energy efficiency for the given parameters in accordance with EU directives).

A spectrometer software development kit (SDK) enables the measurement task to be performed within an existing software environment.

LED calibration standard (optional)

ACS-570 reference LEDs for testing the measurement system.

Luminous intensity measurement adapter (optional)

Special LED 4xx adapter for measuring luminous intensity in conformity with CIE 127.

LED test socket (optional)

Tailor-made test sockets for numerous LED designs.
Products