MultiCAS Test System
Synchronous control of several CAS spectroradiometers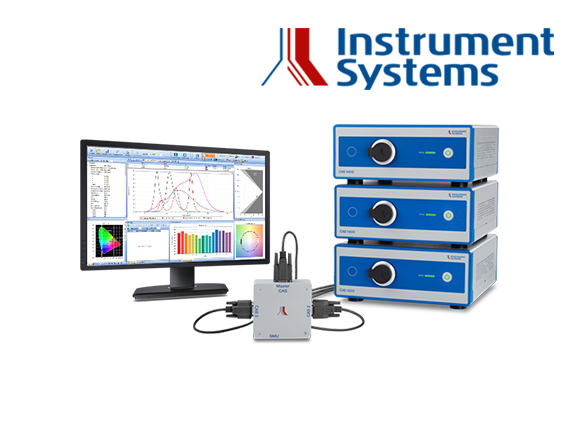 Instrument Systems offers intelligent high-end solutions for complex spectral measurements to be performed over an extremely wide wavelength range, or several samples simultaneously. For this purpose, several spectroradiometers are controlled in parallel using a trigger box.
By combining various different CAS models, a broad wavelength range from UV to IR can be analyzed in a single measurement. The user-friendly MultiCAS module of the corresponding SpecWin Pro analytical software evaluates all measurement data in a uniform measurement curve.
Key Features:
- Easy to use: by connecting a virtual spectrometer in the SpecWin Pro software, operation is identical to that of a single spectrometer.
- Added flexibility: several spectrometers can be combined to a single system with maximum wavelength range
- Reduced investment costs: existing spectrometers from Instrument Systems can be freely combined
| Component | Description |
| --- | --- |
| MultiCAS trigger box | MultiCAS trigger box for synchronous control of up to three spectrometers via a 9-pole Sub-D connector. The voltage is supplied to the trigger box from a spectrometer connected to the master CAS. |
| CAS 140CT-171 | The CAS 140CT-171 (IR1) for the spectral range from 780-1650nm with cooled InGaAs detector demonstrates particularly high sensitivity in the IR range. |
| CAS 140D-154 | The CAS 140D-154 (UV-VIS-NIR) for the spectral range from 220-1020 nm demonstrates particularly high sensitivity in the UV range up into near infrared range. |
| SpecWin Pro | SpecWin Pro lab software for control and evaluation of the spectrometer. |
| MultiCAS plug-in for SpecWin Pro | Plug-in for use of the MultiCAS functionality in SpecWin Pro software. |
Products