LumiTop Display Production Testing
All-in-one solution for quality control in production lines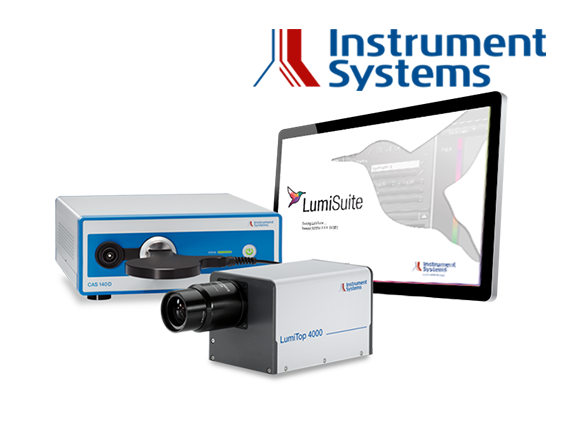 Display test systems of the LumiTop family are optimized for quality control in production. They comprise a LumiTop imaging colorimeter, a high-end spectroradiometer of the CAS series and a photodiode. In this way all relevant optical tests can be performed in one test station. 
Key Features:
2D measurement with unrivalled accuracy thanks to the reference spectrometer
Extremely short measurement times
Simultaneous measurement of flicker or luminance modulations
All-in-one measurement solution for all relevant optical tests
Easy integration into the production line
Absolute precision: no golden sample calibration necessary
Imaging colorimeters with 6, 12 and 150 MP color sensors
Component

Beschreibung

Array spectroradiometer

CAS 140CT-151 (VIS) or CAS 140D-151 (VIS) for the spectral range of 360-830 nm

LumiTop imaging colorimeter

LumiTop 2700 with 6-megapixel RGB camera

LumiTop 4000 with 12-megapixel RGB camera

LumiTop X 150 with 150-megapixel RGB camera

Software

Extensive LumiSuite lab software for measurement of displays, software development kit (SDK) for simple integration of the hardware into the production line

Calibration

Calibrations by Instrument Systems are absolutely traceable to national standards.
Camera: Flatfield correction and calibration of luminance and CIE X,Y,Z.
Spectrometer: Calibration of luminance and radiance.

Complete characterization of the set in customer-specific geometry - no user calibration necessary!

ACS 150

LED light source ACS 150 for audits in the production line.

ACS 585

LED luminance standard for audits in the production line.

Audit for cameras and spectrometers

Complete set for incoming goods inspection of the measurement accuracy of luminance and color coordinates (LumiTop 2700, CAS 140CT, CAS 140D).

Returnable packaging

Clean room-suitable returnable packaging for transporting the camera / spectrometer within the production facility.
Products